Dental Veneers in Melbourne
Improve the Shape, Size & Colour of Teeth
Why Choose EBDG for Dental Veneers?
East Bentleigh Dental Group is committed to providing high-quality dental care to our patients. Our experienced team of cosmetic dentists use the latest technology and techniques to deliver excellent results for our patients. When you choose us for composite or porcelain dental veneers in Melbourne, you can expect:
Personalised treatment plans tailored to your unique needs and goals
Exceptional care and attention to detail
Use of high-quality materials and advanced techniques
A comfortable and relaxed environment
Affordable pricing and payment options
How Veneers Work
While the condition of the teeth is important from a physical health point of view, it's also important to have teeth that are free from breakages, cracks or stains. However, there are times when an individual may need a little help improving the appearance of their smile, which is where dental veneers can be beneficial. Our veneers in Melbourne can be used to cover up chipped, discoloured, misaligned or misshapen teeth, hiding these imperfections for a more aesthetically pleasing smile.
Our veneers procedure can vary depending on whether you're getting composite or porcelain veneers. Our porcelain veneers procedure involves:
Consultation and planning: Our dentist will evaluate your teeth, discuss your goals and create a treatment plan that addresses your concerns.
Preparation: Our dentist will prepare your teeth by removing a small amount of enamel from the front surface of your teeth. This is necessary to ensure a proper fit for the veneers. An impression of your teeth will be taken and sent off to a laboratory to create your porcelain veneers. Temporary veneers may be placed until your next appointment.
Placement: Once your veneers are ready, our dentist will place them on your teeth using a special cement. They will then be polished and adjusted to ensure a comfortable and natural-looking fit.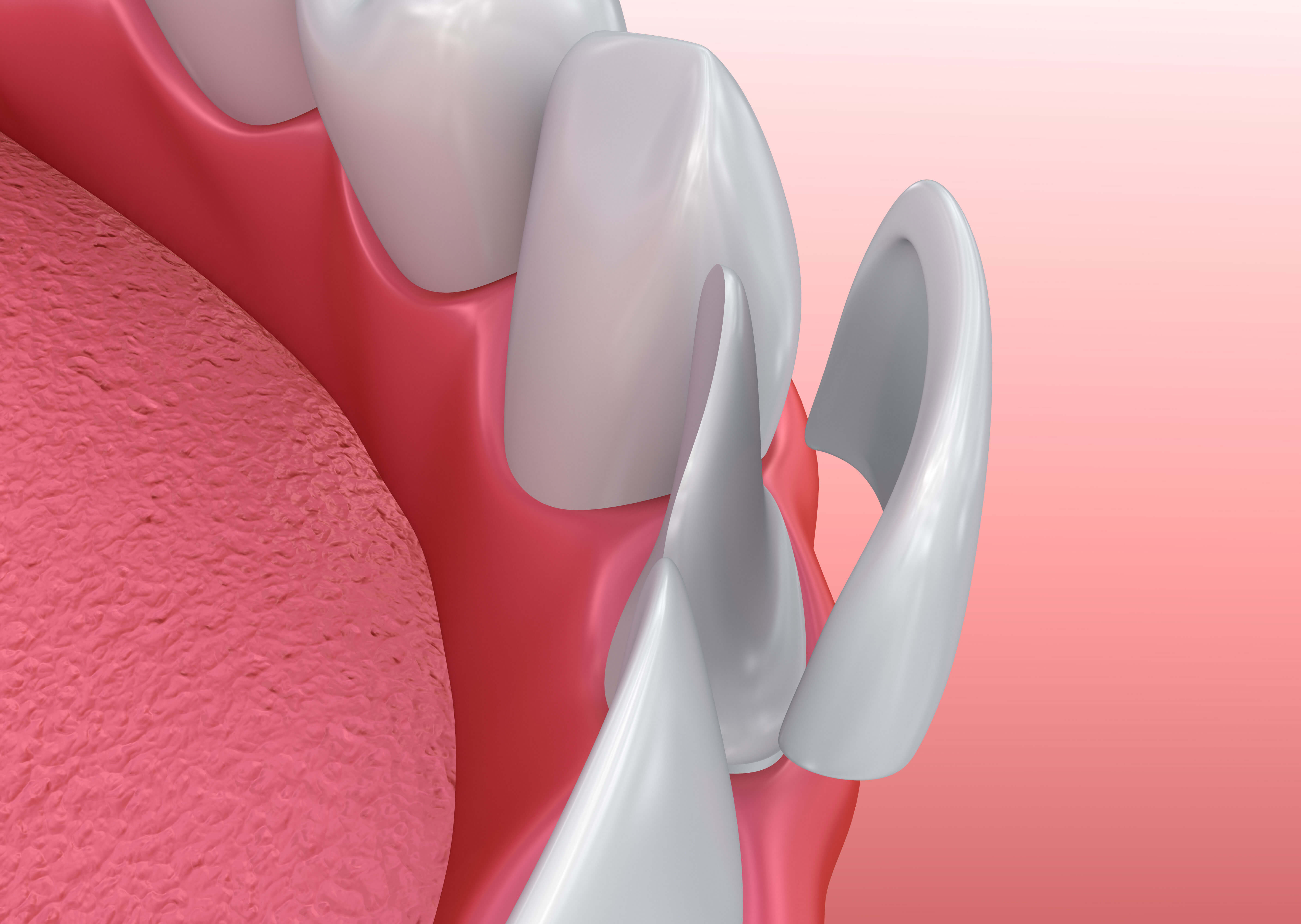 The process for getting composite veneers is similar, except they can be fitted in a single appointment instead of requiring multiple appointments.
In an initial appointment at our clinic, we'll determine whether veneers or one of our other cosmetic dentistry treatments would be better suited to your requirements. If we settle on dental veneers, we'll provide you with information on our available Melbourne veneers options (porcelain and composite) so you can choose a treatment that suits you best.
The Advantages & Disadvantages of Veneers
Veneers offer several benefits, including:
Veneers can enhance the shape, size, colour and overall appearance of your teeth, creating a more attractive smile.
Porcelain veneers are made from high-quality materials that are resistant to staining.
Compared to other cosmetic dental treatments, veneers require minimal tooth reduction, which helps preserve your natural tooth structure.
Getting veneers is relatively painless for most patients. Local anaesthetic can be used to ensure no pain is experienced.
Veneers are capable of lasting for many years with the right care.
It's also important to be aware of the disadvantages of veneers, which can include:
If veneers become damaged or start shrinking away from the top edge of the gum, replacement will be necessary.
The cost of porcelain veneers can be high.
A small amount of the tooth must be shaved away during preparation.
Suitability of Veneers
Veneers in Melbourne are a suitable treatment for patients with:
Discoloured or stained teeth
Chipped or cracked teeth
Misshapen or uneven teeth
Gaps between teeth
Slightly crooked teeth
Porcelain Veneers vs. Composite Veneers
Composite veneers are made from composite resin, while porcelain veneers are fabricated from porcelain. While porcelain veneers are more expensive than composite veneers, porcelain is considered to be the superior material for veneers, as it has a more realistic appearance, is more resistant to staining, and is longer lasting. At East Bentleigh Dental Group, we recommend porcelain veneers in order to achieve the best smile possible.
Here are some of the pros and cons of each treatment:.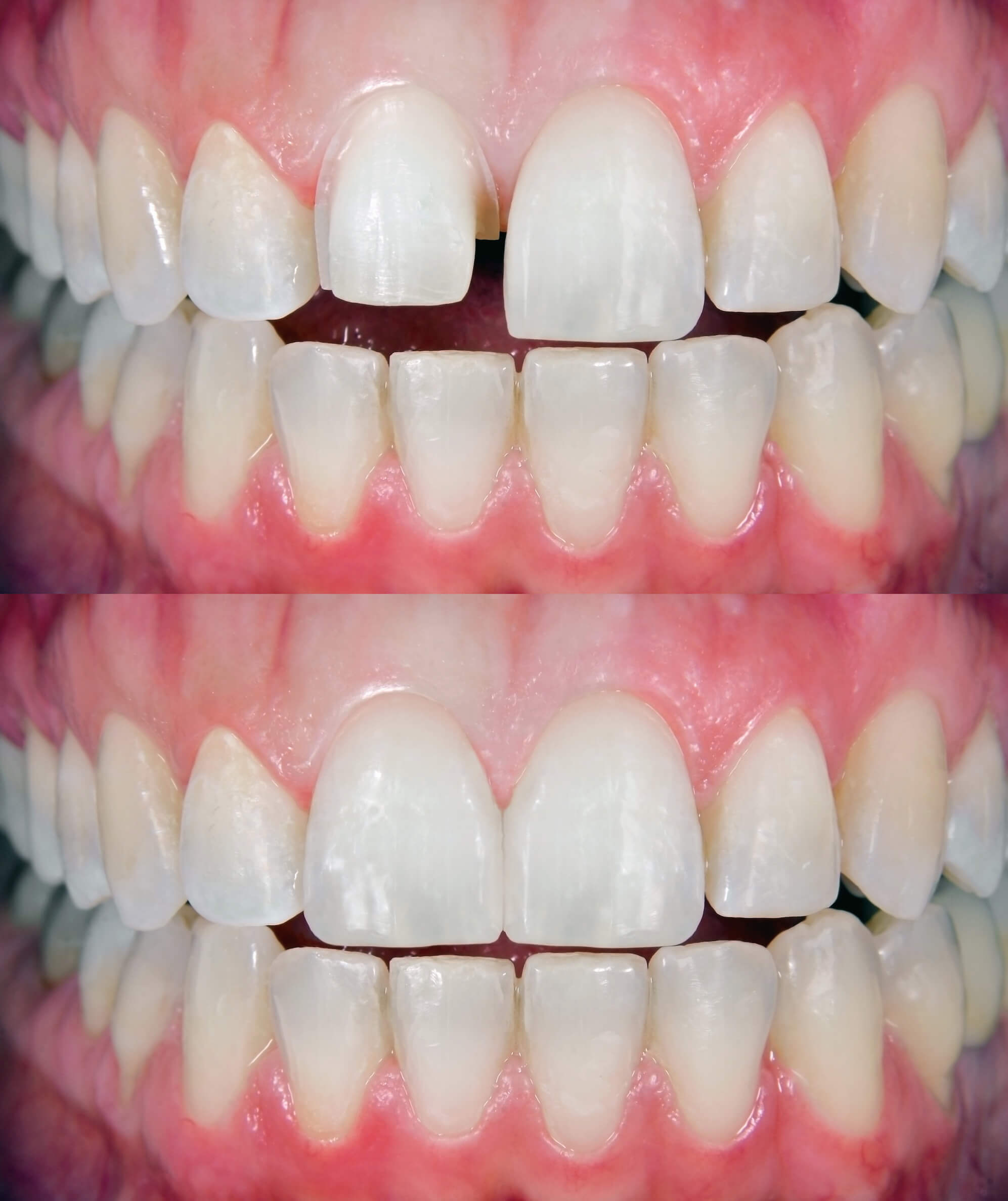 Porcelain Veneers Pros:
More durable and long-lasting
Better stain resistance
More natural-looking appearance
Porcelain Veneers Cons:
More expensive
Requires multiple visits
More invasive procedure
Composite Veneers Pros:
Less expensive
Requires only one visit
Less invasive procedure
Composite Veneers Cons:
Less durable and long-lasting
Not as stain-resistant
May not look as natural as porcelain veneers
The Procedure for Veneers in Melbourne
Our procedure for dental veneers in Melbourne typically involves the following steps:
1. Consultation and planning – The first step is to schedule a consultation with our cosmetic dentist. During this initial appointment, our dentist will carefully examine your teeth, discuss your goals and expectations, and determine if our Melbourne veneers are the right option for you. Other factors such as tooth colour, shape, size and alignment will also be taken into account to create a customised treatment plan that suits your specific needs.
2. Tooth preparation – Once a treatment plan has been established, our dentist will prepare your teeth for veneer placement. This involves removing a thin layer of enamel from the front surface of the teeth in order to ensure a proper fit for the veneers. The amount of enamel removed is minimal but can vary from patient to patient.
3. Impression – After tooth preparation, our dentist will take an impression of your teeth if you're getting porcelain veneers. This involves using a dental putty or digital scanner to create an accurate mould of your teeth, which will serve as a guide for the dental laboratory to fabricate your porcelain veneers. Once the veneers are ready, you'll need to return to our clinic to have them placed.
4. Temporary veneers (required for porcelain veneers only) – Temporary veneers may be necessary when porcelain veneers are chosen. These temporary veneers provide protection to the prepared teeth while your porcelain veneers are being crafted.
5. Veneer placement – The composite or porcelain veneers will be carefully bonded to your teeth using a special dental adhesive. Before permanently attaching them, our dentist will ensure that the colour, shape and fit are ideal.
6. Final adjustments – After the veneers are cemented on, our dentist will make any necessary final adjustments. This may include trimming or shaping the veneers for optimal bite alignment and comfort while ensuring a natural-looking and aesthetically pleasing smile.
Alternatives to Veneers
If veneers aren't the right treatment for you, there are several alternatives to our Melbourne veneers available, including:
Dental bonding
Dental crowns
Aftercare for Porcelain Veneers
After your veneers procedure, it's important to follow your dentist's instructions for proper care and maintenance. This may include:
Brushing and flossing regularly
Continuing to follow good oral hygiene habits
Visiting your dentist for routine check-ups and cleanings
Patients should avoid chewing on hard objects, such as ice or pens, and avoid using their teeth to open packages or bottles. Additionally, they should wear a mouthguard if they participate in sports or activities that may lead to dental injuries.
In the event of any issues with their veneers, patients should contact East Bentleigh Dental Group right away to schedule an appointment.
Book a Consultation Today
If you are interested in enhancing your smile with porcelain veneers, contact East Bentleigh Dental Group today to schedule a complimentary consultation. Our experienced dental team can discuss your options and create a personalised treatment plan that meets your needs. We also offer payment plan options in addition to providing health insurance rebates. Call us on (03) 9575 1100 to learn more about our Melbourne veneers options.
FAQ's
Are porcelain veneers permanent?
Porcelain veneers are not permanent, but they can last up to 10-15 years with proper care.
How many veneers will I need?
The number of veneers needed often depends on a number of factors, such as the condition of a patient's teeth as well as their budget. Typically, veneers are placed on the front 4 teeth or the front 8 or 10 teeth. It's not recommended for veneers to be placed on the first 6 teeth, as this can look unnatural.
Can porcelain veneers stain or discolour over time?
While porcelain veneers are resistant to stains, they can still discolour over time due to certain factors such as smoking or consuming highly pigmented food and drinks.
Is the veneers procedure painful?
No, the procedure for getting veneers in Melbourne should not be painful when performed by an experienced dentist. Before the procedure begins, your dentist will numb your mouth with a local anaesthetic to ensure no pain is felt. While patients may feel a sensation of pressure while the teeth are being worked on, this sensation should be free of pain.
How long does the veneers procedure take?
The procedure for porcelain veneers usually takes two to three visits, depending on the complexity of the case. Composite veneers can be placed in a single appointment.
How much do porcelain veneers cost?
The cost of porcelain veneers varies depending on the number of teeth being treated and the complexity of the case. East Bentleigh Dental Group offers a complimentary consultation to discuss treatment options and pricing of porcelain dental veneers in Melbourne.