Melbourne Dental Implants
Restore the Appearance & Function of Missing Teeth with Dental Implants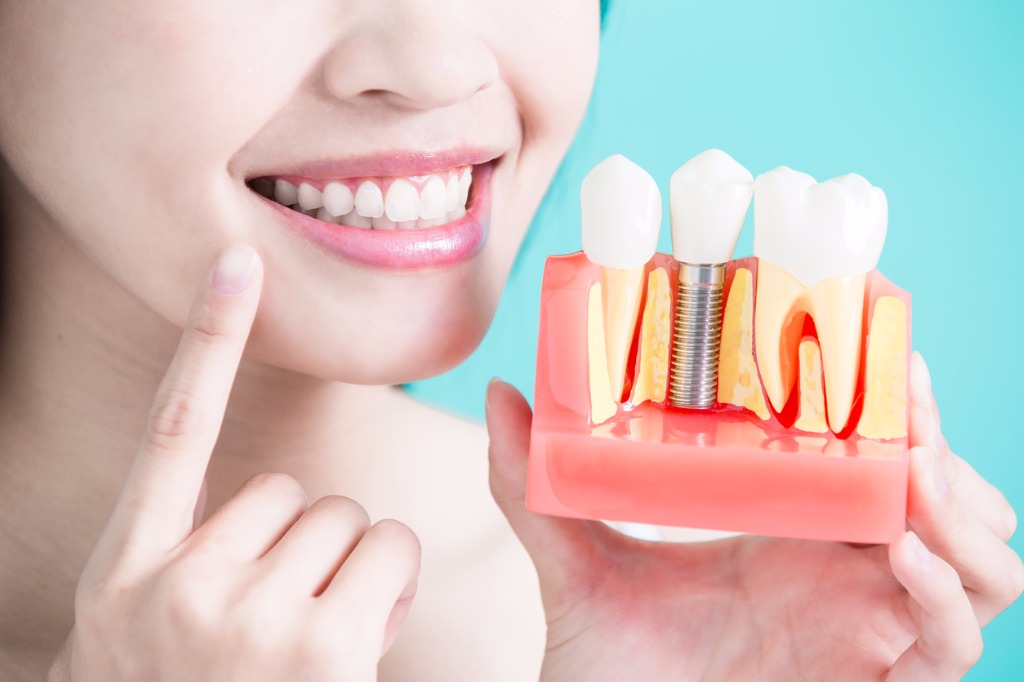 Why Choose EBDG for Dental Implants?
At East Bentleigh Dental Group, we pride ourselves on providing high-quality dental implants with a patient-centric approach. Our dental implants in Bentleigh East are made from durable materials for long-lasting results, and our experienced dentists will work with you to determine the best implant option for your individual needs.
EBDG is one of the few practices in Melbourne that offers implant placement through a "key-hole" surgery for suitable cases. By using advanced on-site 3D imaging scans, we can virtually plan the entire procedure on the computer and use a custom stent. This means NO scalpel and NO stitches are needed, making recovery much quicker than the traditional method of implant placement.
How the Treatment Works
A tooth implant is directly inserted into the jawbone to act as an anchor for a replacement tooth and crown. Over time, the jawbone becomes attached to the implant, allowing for the permanent fastening of the replacement tooth. The process involves several appointments to ensure proper placement and healing time.
The most effective solution for patients with missing teeth is a dental implant combined with a porcelain crown. This is more stable than a denture and more natural-looking than a bridge. Our clinic offers singular, multiple and even full-mouth dental implants in Bentleigh East to provide our patients with the best options in restorative and cosmetic dentistry.
As with any surgical procedure, there are risks that every patient should consider, and a second opinion from an appropriately qualified health practitioner is always recommended. Our team takes care to offer a complete assessment of our patients' needs, including pain management solutions such as sleep dentistry and sedation dentistry.
The Benefits of Dental Implants
Dental implants offer a range of benefits, including:
Improved appearance and confidence
Improved speech and ability to eat
Improved oral health
Long-lasting and durable results
Ability to withstand greater bite pressures compared to dentures
Can be kept clean similarly to natural teeth with brushing and flossing
Prevents bone loss in the jaw
Can prevent dental issues such as gum recession
To make an appointment for dental implants, call (03) 9575 1100 today.
What Are the Causes of Tooth Loss?
Common causes of tooth loss include:
Poor oral hygiene
Advanced gum disease (periodontal disease)
Serious infection
Injury or impact to the tooth
Taking good care of your teeth and gums and organising regular check-ups with your dentist is the best way to prevent teeth from being lost. You should make sure to brush your teeth twice daily and floss at least once a day, helping to remove plaque and keep your teeth and gums healthy. You can also prevent tooth loss as a result of injury or impact by wearing a mouthguard when participating in high-impact sports or other activities.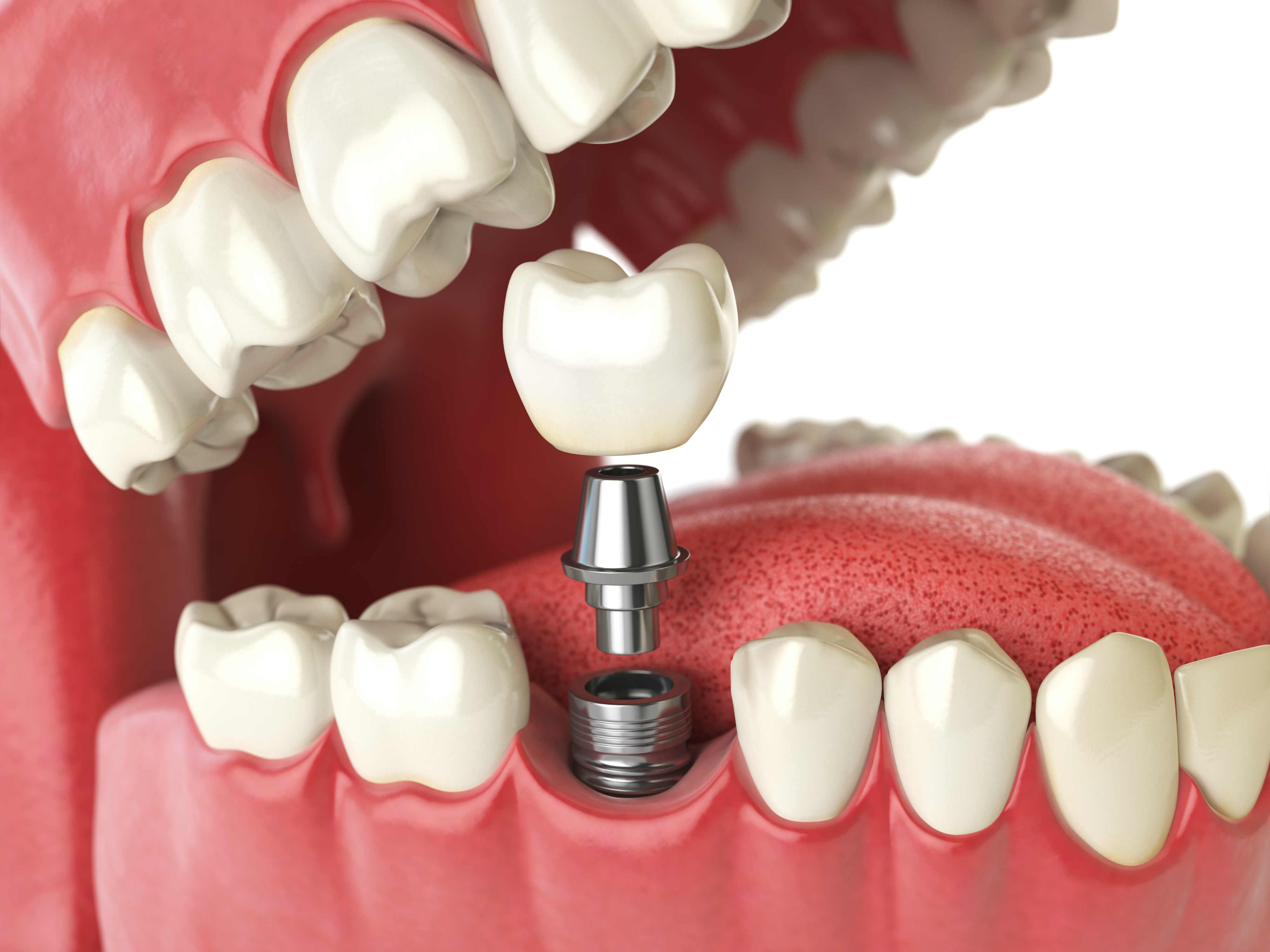 The Importance of Replacing Missing Teeth
In addition to affecting confidence, the loss of one or more teeth can cause issues with other teeth as well as difficulties with tasks such as eating and talking. It can even lead to a type of dysfunctional occlusion known as Dental Distress Syndrome (DDS). This syndrome occurs when there is a dysfunctional relationship between the upper and lower jaws, often caused by one or more missing teeth. Symptoms can include pain and tenderness, headaches, dizziness, hearing loss and fatigue.
For the permanent replacement of missing teeth, dental implants offer patients an extremely effective and natural-looking solution. By opting for dental implants as opposed to dentures, you can restore your dental health by normalising your bite pattern and protecting the integrity of your jawbone and adjacent teeth.
Suitability of Dental Implants
Dental implants are a good option for many people, but there are some factors to consider. Your dental professional will assess your oral health and discuss your options with you to determine if dental implants are suitable for you.
Dental implants may not be suitable for:
Children younger than 17 years old
Smokers
Pregnant women
People who experience certain medical conditions
Your dentist will also inform you of all associated risks and limitations of dental implants before surgery. Possible complications can include:
Allergic reactions to anaesthesia
Excessive bleeding from the surgical site
Infection
Lower jaw fracture
Nerve damage
Speech problems
Gum tissue growth
Bone loss
Loose implants
Loose teeth
Tooth problems such as chipping or breakage
To make an appointment for dental implants, call (03) 9575 1100 today.
Types of Treatments
At East Bentleigh Dental Group, we offer a range of tooth implant options, including:
Endosteal implants: The most common type of dental implant, placed directly into the jawbone as a replacement for missing teeth.
Subperiosteal implants: Placed under the gum line but above the jawbone, suitable for patients with insufficient bone support for traditional implants.
Standard dental implants: Similar to endosteal implants, but with a slightly different shape.
Fixed bridgework: A bridge attached to dental implants for a permanent solution to missing teeth, improving both appearance and functionality.
Dentures: Implant-supported dentures for a secure and comfortable fit, enhancing chewing ability and confidence.
Temporary dental implants: A short-term solution for missing teeth while waiting for permanent dental implants.
The Tooth Implant Procedure
The procedure for each type of dental implant varies slightly, but generally involves:
Initial consultation and assessment to assess the condition of the jawbone and gums, discuss specific needs and determine the most suitable implant option.
Placement of the implant(s) into the jawbone or gums depending on the type of implant chosen.
Healing time of 3-6 months for the implant to fuse with the bone. The duration of healing can vary depending on factors such as bone quality, overall health and the specific implant procedure used.
Placement of the replacement tooth or bridge once the tooth implant has integrated with the jawbone or gums. An abutment will be placed on top of the implant in order to attach a replacement tooth.
Follow-up appointments to monitor healing, ensure proper fit and function, and provide guidance on post-operative care and oral hygiene.
The four main steps involved in placing a dental implant include:
Preparing the implant hole – The dentist will expose the jaw bone and use a dental drill to create a hole for the implant.
Inserting the implant – The cylindrical implant is either screwed or tapped into position within the prepared hole. With the traditional implant procedure, stitches are used to close the gum, but this isn't necessary if key-hole surgery is used. Over the coming weeks and months, bone will grow onto the implant surface – a process known as osseointegration.
Attaching the abutment – Once the implant is stable and the bone has healed, the abutment is attached to the implant.
Attaching the artificial tooth – The final step involves attaching the artificial tooth to the implant, using either cement or a special screw. Detachable teeth may also be option.
Alternatives to Dental Implants
There are several alternatives to dental implants, including dentures and bridges. Your dental professional will discuss the pros and cons of each option with you to help determine the best solution for your individual needs.
Dental Implants Aftercare
After the procedure, it's important to maintain good oral hygiene and follow any specific care instructions provided by your dental professional. Regular check-ups and cleanings are also important to ensure the longevity of your implants.
Here are some tips to help you care for your dental implants:
Brush your teeth after every meal using a toothpaste that contains fluoride
Use a soft bristle toothbrush with a small head as well as interdental brushes
Floss your teeth at least once a day
Limit consumption of sugary foods and drinks to prevent plaque build-up
If you experience any toothache or gum inflammation, make an appointment with your dentist
Restore Tooth Appearance & Function Today
Book a Consultation for Dental Implants in Bentleigh East
To learn more about dental implants and determine if they're a suitable option for you, book a consultation with one of our experienced dental professionals. We offer a complimentary consultation to discuss your options and answer any questions you may have about our Melbourne dental implants. Our practice also has payment plan options available and provides health insurance rebates.
FAQs:
What can a tooth implant be used for?
A tooth implant can be used for a range of purposes, with the most common being to replace a missing tooth, to provide support to a bridge and to secure dentures in place.
Does the tooth implant procedure hurt?
No, the procedure for our Melbourne dental implants should not cause any pain due to the local anaesthetic that's used. While you may feel the sensation of your mouth being worked on, this should not be painful. If you're feeling anxious about the procedure, our dentists can provide sedation options such as sleep dentistry to ensure you're as comfortable as possible during the tooth implant procedure.
After the procedure, mild discomfort is normal and can be managed with over-the-counter pain medication. Ice packs can also be applied to minimise swelling and provide added relief from any pain.
How long do dental implants last?
Dental implants are a long-lasting solution, but this depends on how well they're maintained and taken care of. Dental implants can last up to 15 years or longer with proper care, however this can depend on a range of factors. A patient's lifestyle and dental hygiene can affect the longevity of a tooth implant, so it's important to discuss these factors with your dentist.
How should I care for my dental implants?
After getting Melbourne dental implants, it's important to properly take care of them to give them the best chance at lasting a long time. You should brush and floss your dental implants twice a day, as with all other teeth. You should also take steps to reduce consumption of sugary foods and drinks.
Within the first year after getting dental implants, it's recommended that you regularly see your dentist to make sure no problems develop. If a tooth implant starts to feel loose or it's affecting your bite, you should arrange to see your dentist as soon as possible.
Can all teeth be replaced with dental implants?
Yes, full mouth dental implants are available as an alternative to dentures in cases where all teeth have been lost or removed.
Is it better to have a root canal or dental implants?
This will depend on what's wrong with the tooth. It's generally preferable to retain the natural tooth using root canal treatment, but if the extent of damage necessitates extraction of the tooth, a dental implant may be a suitable option.
Can dental implants help with overall gum health?
Yes, getting dental implants may assist with the overall health of both the teeth and the gums by preventing bone loss.
Can anyone get dental implants?
Most people are suitable candidates for dental implants, but factors such as age, overall health and oral health must be considered.
How much do dental implants cost?
The cost of dental implants varies depending on the individual case and the type of implant used. We offer financing options to make dental implants in Bentleigh East more affordable for our patients.